Who Makes Palma
*The strategic, creative, and humanized perspective of Alê Karmirian and Emanuela Palma is focused on executing projects that promote a sense of belonging and awareness of socio-environmental balance. We came together in the production of the documentary 'Mestre Sirso,' an opportunity that created synergy for us to continue working together.
Investigating, connecting, designing, executing, and telling stories is what drives us and motivates us to create experiences that connect culture and sustainability in a journey of inspiration, creation, impact, and transformation.*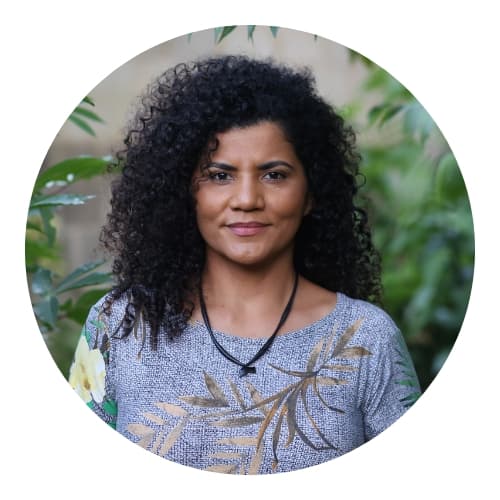 Emanuela Palma
Emanuela Palma is a journalist, photographer, documentarian, and cultural producer. She worked as a reporter, presenter, and editor at TV Rondônia for eight years, during which she was a finalist for the IGE Journalism Award and was awarded the Avina Journalism Investigation Scholarship. During this period, she produced and directed the documentary 'From the Amazon to the Pacific,' which was a finalist at Intercom 2009.
She is the producer and director of the documentary 'Mestre Sirso: When Silence is the World, Vibration is the Master,' which was supported by the Matchfunding BNDES + Cultural Heritage program. She was responsible for the production of the Cinema and Human Rights Showcase in Porto Velho/RO for six years. In the field of cultural production, she is also involved in theatrical projects with impact production.
Alexandra Karmiriam
Multidisciplinary, Strategic, Visual, Empathetic, Visionary, and Inquisitive. Believes that we need to connect to co-create, and then innovate, impact, and transform.
Works on the ideation and conception of impactful projects - both strategic and visual - involving innovation, communication, and sustainability in the cultural and socio-environmental realm. Currently pursuing a postgraduate degree in Project Management (Conquer 2023), with a specialization in Design Thinking (Echos Innovation Lab 2019) and a postgraduate degree in Photography and Image (Iuperj/Ucam 2017). Holds a degree in Industrial Design - PV (UniverCidade 2012.1) and has completed various courses and workshops in Photography and Innovation. Participated in innovation/sustainability projects for Americanas.com (Echos) and Shell (Ideation Week - Fábrica de Startups). Involved in an innovative project for sustainable food production and income generation (Aquaponia Chauá) and supports the Coletivo Raiz Orgânica Agricultura. Participated in the Design Thinking Conference SP (2018) and was an organizer, photographer, and facilitator at the Global Service Jam RJ 2023.
Received an award in Design at the Concurso Objeto Brasil - Book "Macro-Natureza" with original photographs focused on environmental preservation - exhibited at Conjunto Nacional in SP (2014) and Museu Oscar Niemeyer CB (2015). Since then, she has worked as a designer and curator on several books: "5 Sentidos Senses Sinne" (Momentos World - Artistic Cloud Center), "No Coração da Imagem" (Renato Balocco), and "Eu Fotógrafo | Eu Espectador" (Coletivo Nós da Pós). Supported the documentary "Mestre Sirso" (Emanuela Palma) as a designer and served as a still photographer for the documentary "Simbiose'' (Laura de Carvalho). Participated in collective exhibitions as a designer and photographer at Foto em Pauta, Centro Cultural Justiça Federal, Festival Internacional de Paraty, A Casa Foto Arte, Galeria Cândido Mendes, Centro Cultural dos Correios Niterói. Over the course of her career, she has worked with organizations such as Fundação Fiocruz, Checklist, Peltier Design, Inlinear, Prefeitura do Rio de Janeiro, Redbandana, Francesca Romana Diana, E-commerce do Grupo de Moda Soma, ONG Gastromotiva, and volunteered for 7 years at ONG TETO - BRASIL."